"If you want to understand how a lion hunts, don't go to the zoo. Go to the jungle."
-Jim Stengel
MEga events
One of the main proponents of SMA's success comes from attending and working premier sporting events around the country. Previous Mega Event trips include:
Super Bowl XLIX (Glendale, AZ)

2016 NHL All-Star Game (Nashville, TN)

2015, 2016 & 2017 Women's Final Four (Indianapolis, IN)

2016 Men's Frozen Four (Chicago, IL)

Super Bowl LII (Minneapolis, MN)

Super Bowl LIII (Atlanta, GA)
Through these events, our members have worked in several departments including marketing, communications, fan-relations, operations, and event coordination. Attendance for these trips is limited, so members are selected through application and interview for each Mega Event. In 2017, SMA sent nearly 35 members to 3 Mega Events – the Baseball Winter Meetings (pictured left), Women's Final Four, and NCAA Frozen Four.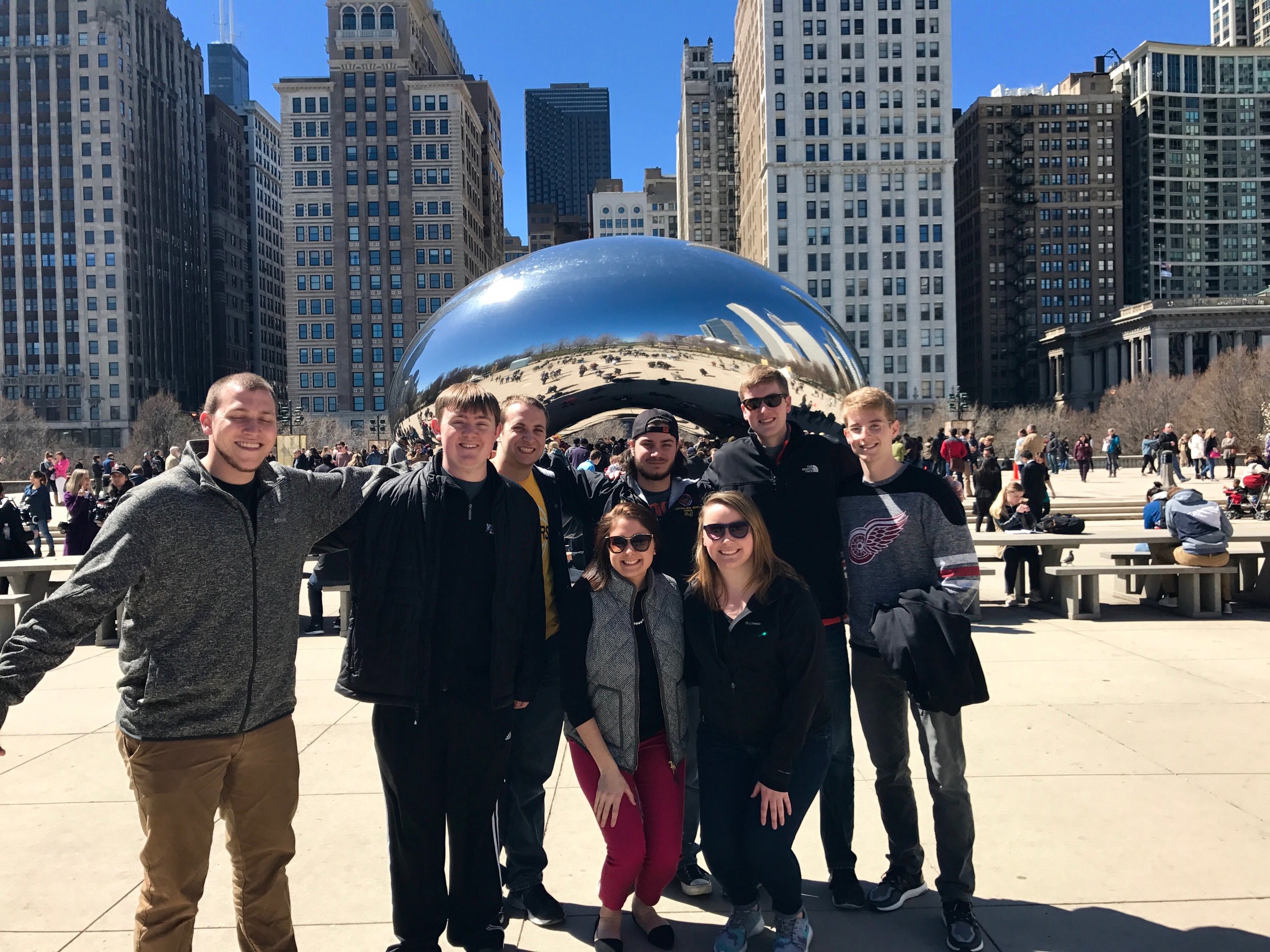 Chicago, IL
Members of the Sport Management Alliance visited Chicago, Illinois to volunteer at the NCAA Frozen Fest as part of the Frozen Four festivities. Members assisted with liability waivers and game supervision outside of the iconic United Center. Our students were able to explore all that the city of Chicago has to offer, including visiting Wrigley Field just after the Cubs won the World Series.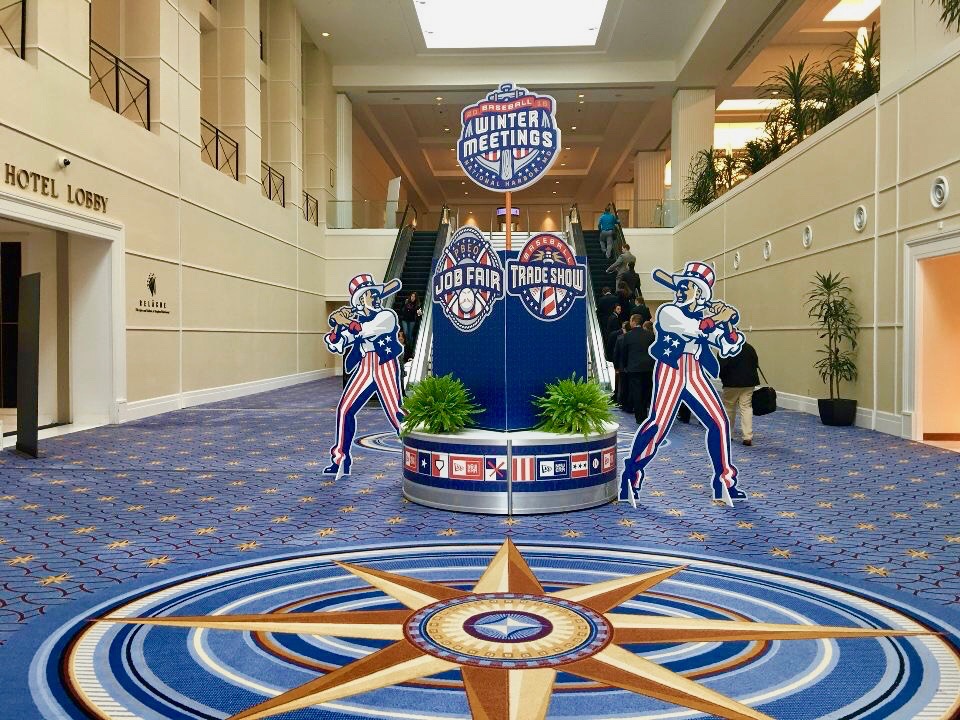 2016 Baseball Winter Meetings
Washington, D.C.
This was the second year that SMA sent members to attend the Baseball Winter Meetings and MiLB Job Fair. In 2015, the meetings were held in Nashville, TN. Coming away from the 2016 Winter Meetings, over 50 interviews were earned by our members, 7 jobs were offered, and 3 positions were accepted.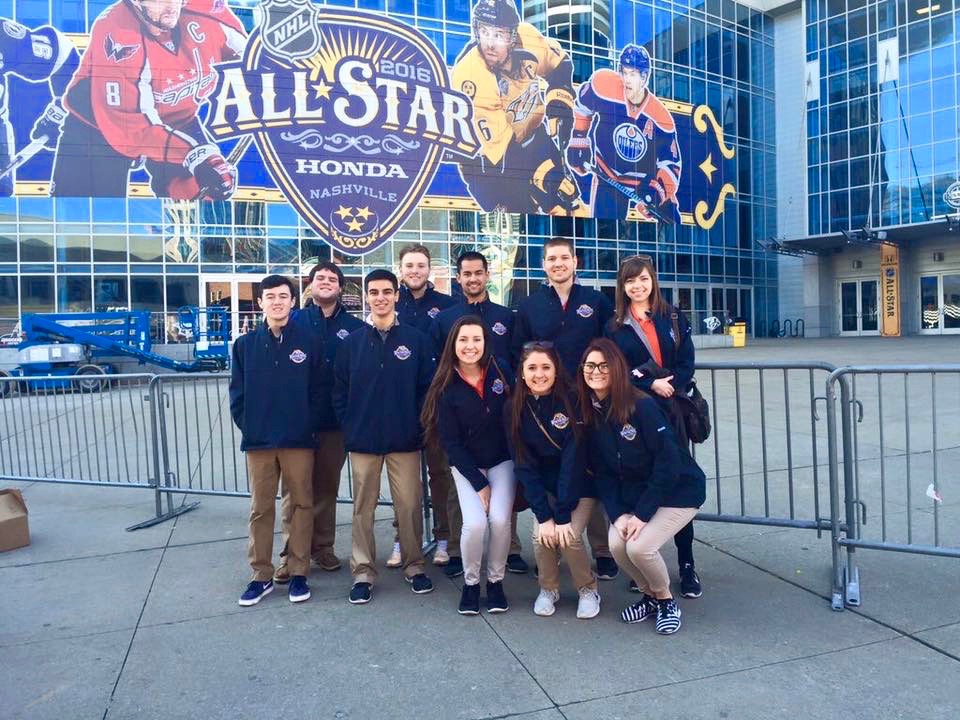 Nashville, TN
11 members assisted the Nashville Sports Council and the National Hockey League gathering economic data on the impact of the All-Star Game on the city as well as connected with executives on the Nashville Sports Council.
networking trips
Networking trips are held several times every year – a large trip in the Fall and Spring, and several other day trips throughout the year. On networking trips, members are given the opportunity to tour famous facilities such as Churchill Downs (Louisville, KY), Nationwide Arena (Columbus, OH), Louisville Slugger (Louisville, KY), and the Scottrade Center (St. Louis, MO). As well as touring facilities, SMA meets with executives in a wide variety of departments from the host team or company to create key connections that have been used to land internships and jobs.
Networking trips are open to all interested members. In 2018-19, SMA sent over 30 members on Networking trips to Nashville, TN and Chicago, IL.
For the Spring 2019 networking trip, SMA took 15 members to Chicago. They met with an executive from the Chicago Cubs, took a tour of Northwestern University's athletic training facility with facility operators and met with front office personnel for the Chicago Wolves before attending one of their games.
SMA started off the 2018-19 academic year by taking 18 members on a two-day networking trip to Nashville. They met with executives from Nashville SC, toured Bridgestone Arena and met with personnel from the Predators front office, and visited Lipscomb University and attended a volleyball game.
SMA kicked off the 2017-18 academic year with a two-day networking trip to Green Bay and Milwaukee. They toured the legendary Lambeau Field, met with front office personnel from the Green Bay Packers, and attended a Brewers game. This was SMA's largest group taken for a networking event of this scale, taking 27 members.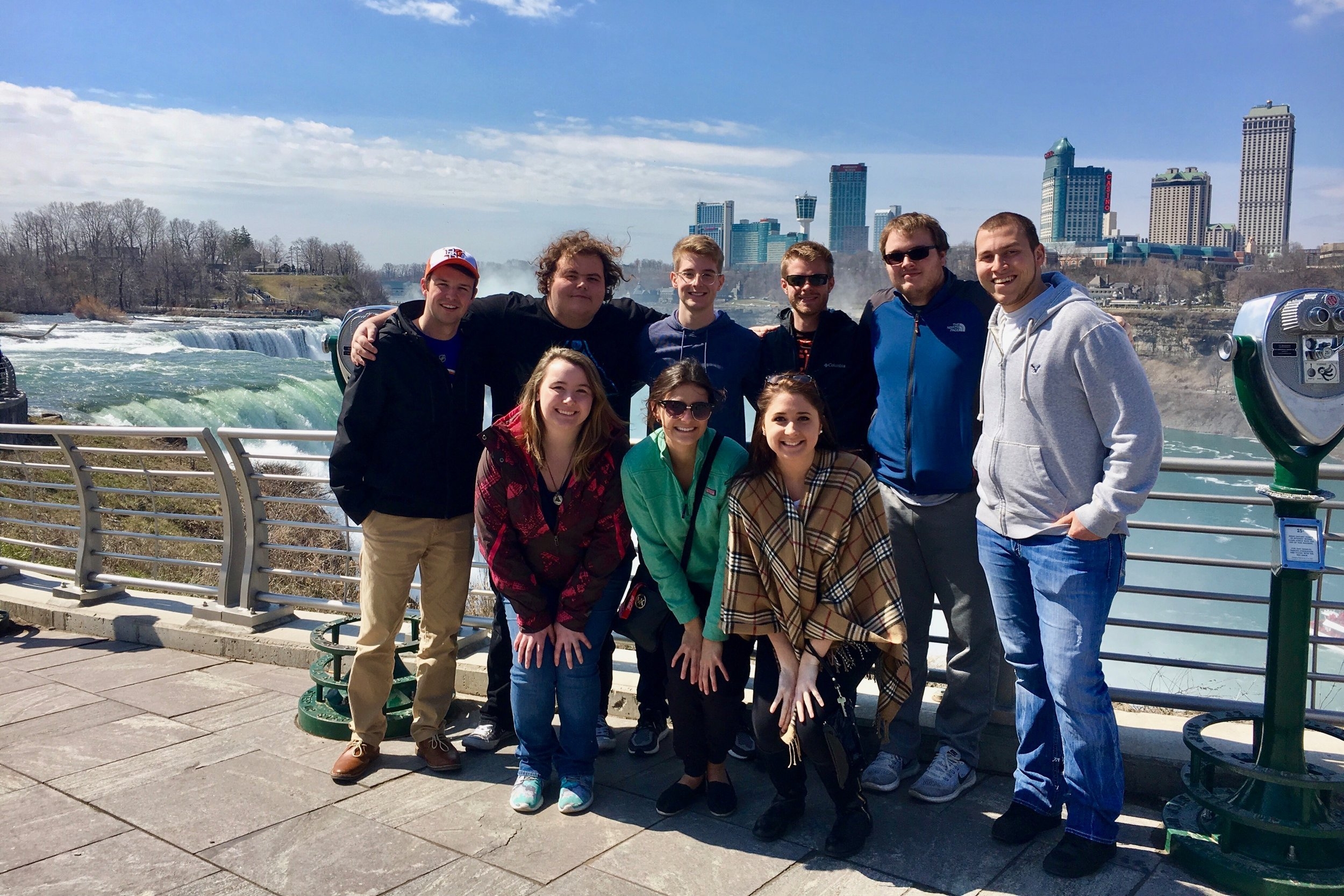 The 2017 Spring Networking Trip took 10 members to Buffalo, Rochester, and Niagara Falls over the course of 3 days. They attended a Rochester Americans game, a Buffalo Bandits lacrosse game, and watched the Buffalo Sabres play against the New York Islanders. They also toured the Key Bank Center and Rochester's facility. After their tours, members met with professionals from the marketing team for the Buffalo Sabres and Bandits as well as a business operations executive from the Americans.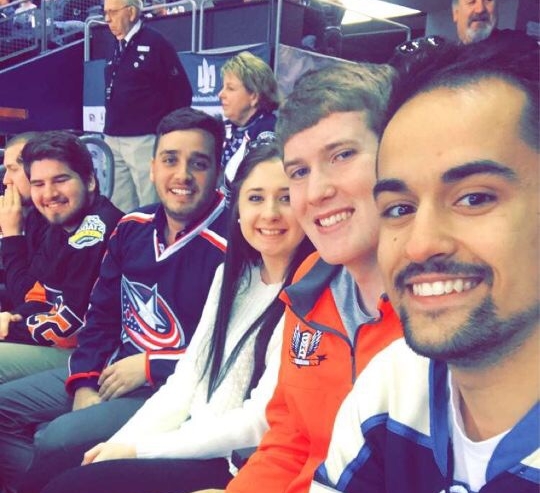 Those who went to Columbus in the Spring of 2017 got a behind-the-scenes tour of Nationwide Arena and met with members of the marketing and ticket sales team for the Columbus Blue Jackets. After the meeting, members got lower-bowl tickets to a sold-out game against the Philadelphia Flyers. The group was one of SMA's largest, bringing 20 members.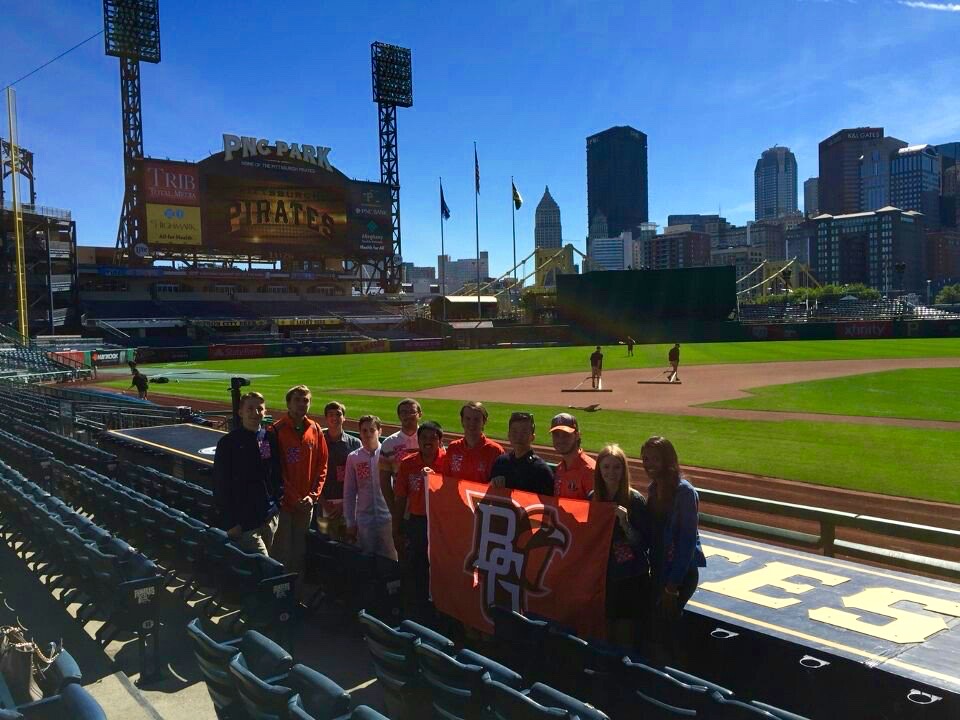 The 2016 Spring Trip took a group of students to Pittsburgh, Pennsylvania. In Pittsburgh members met with front office staff of the Pittsburgh Pirates and got to watch the game while getting to know each other over hotdogs.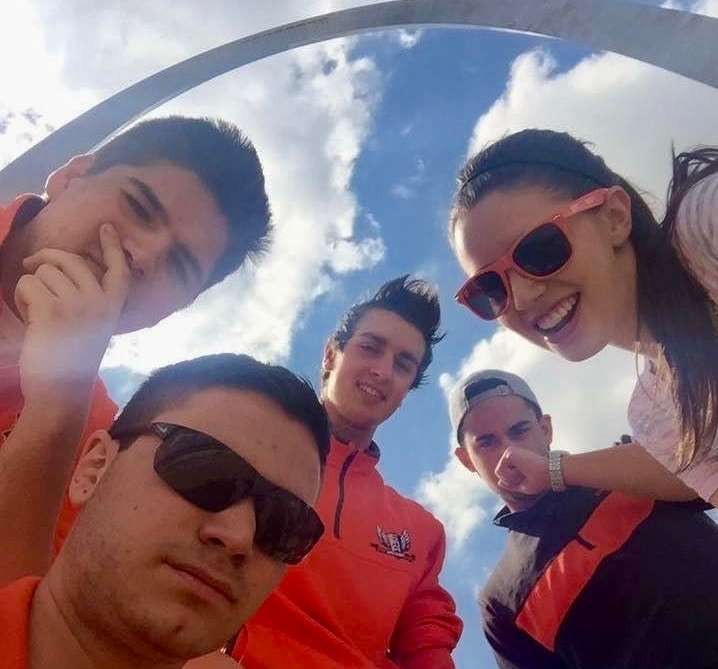 Members who travelled to St. Louis for the 2016 Spring Trip toured the Scottrade Center (St. Louis Blues) and the Gateway Grizzlies AAA Baseball stadium, meeting with executives from each. They toured the city, went up in the famous arch, and enjoyed the best of St. Louis barbecue, as well. The trip was highlighted by attending a second-round playoff game between the Blues and the Chicago Blackhawks and Opening Day for the St. Louis Cardinals.
Other Networking trips taken in the past: Louisville, KY; Notre Dame; Cleveland, OH; Detroit, MI; Atlanta, GA.
other travel images
Click to cycle through images.